7 Burgers that Make You wish Every Day Was National Hamburger Day
If the thought of a juicy hamburger makes your mouth water, you're not alone. Statistics show that Americans eat more than 50 million burgers each year. More than 70 percent of all the beef served in the United States is shaped into patties for hamburgers or cheeseburgers.
Americans love the tasty sandwiches so much the U.S. has a National Hamburger Day (May 28), a National Cheeseburger Day (Sept. 18), and a National Hamburger Month (May).
You don't have to wait for an official holiday, however, to get your burger fix.
Some of the tastiest choices can be found  at  The Country View Restaurant, located on Route 33 in Greenland near the seacoast and Portsmouth, NH.  They proudly serve the New Hampshire Seacoast's best burgers every day and their customers agree having voted them "Best of The Seacoast" First Place winner in the burger category.
The popular restaurant offers hand-formed, half-pound beef patties made of a blend of twice-ground sirloin, flap, and brisket.  One Yelp user gave the restaurant a five-star review that praised this custom grind. "They were the most flavorful and juicy burgers we had ever had. There was no hiding the beef behind seasonings and condiments," wrote Greg H. of Dover, N.H. "Their burgers are my new benchmark, and they set a high bar."
What makes the restaurant's burgers so revered by its customers starts and ends with the CVR branded brioche rolls.  Burgers are paired with your choice of house-made chips or French fries or you can upgrade to spicy fries, sweet potato fries or onion rings. Customers can substitute the beef patty for either bison or turkey or veggie for an additional fee.
With more than a dozen burger options on the menu, the choice may seem daunting.
Start by considering these best burger options:
The Cider House Burger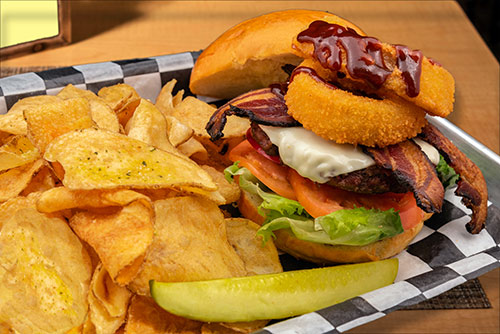 The most popular burger on the menu dresses up its beef patty with cheddar cheese, bacon, onion rings, an apple slice, barbecue sauce, lettuce, and tomato.
The Piggy Back Burger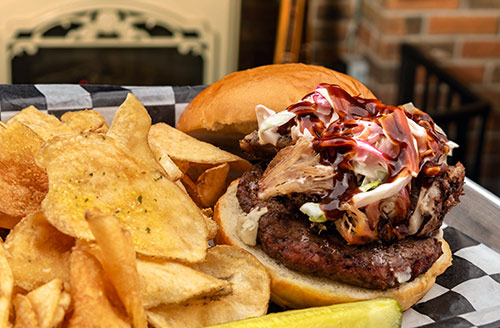 Can't decide whether you want a hamburger or barbecued pork? Have both. The chef tops the burger with a savory blend of pulled pork, barbecue sauce and coleslaw.
The CVR Mac 'N' Cheese Burger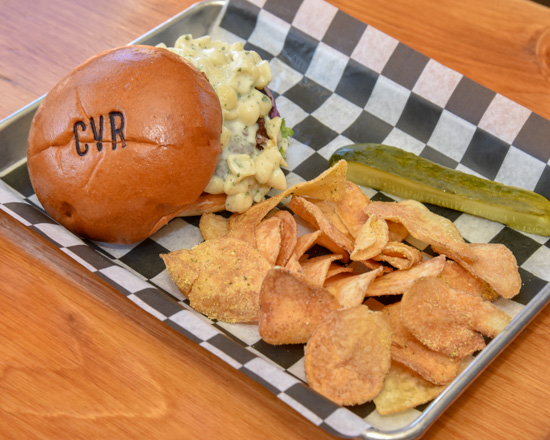 Another two-in-one combo, the chef tops this burger with the restaurant's house-made macaroni and cheese, plus lettuce, tomato and red onion.
The Warrior Burger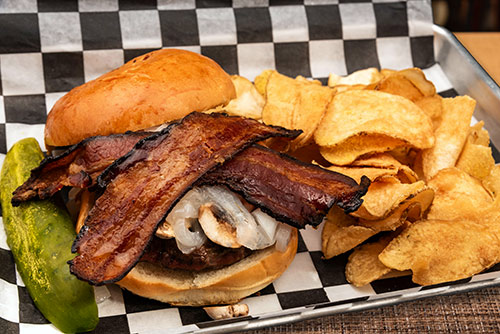 This more traditional hamburger is served with bacon, cheese, sautéed onions and sautéed mushrooms.
The Chili Jack Burger
Want to try a burger that packs a little extra kick? The Chili Jack Burger features a hamburger smothered with a spicy blend of the restaurant's house-made chili and pepper jack cheese.
The Mushroom Swiss Patty Melt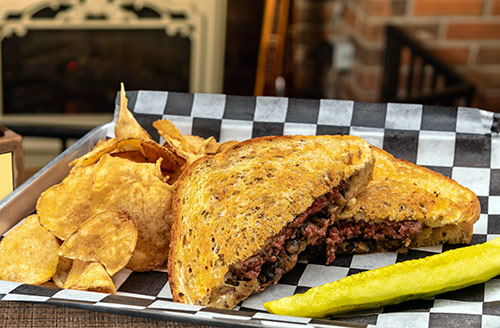 This burger option swaps the bun for rye bread and smothers the patty with Swiss cheese, sautéed mushrooms and sautéed onions.
Blue Cheese Burgers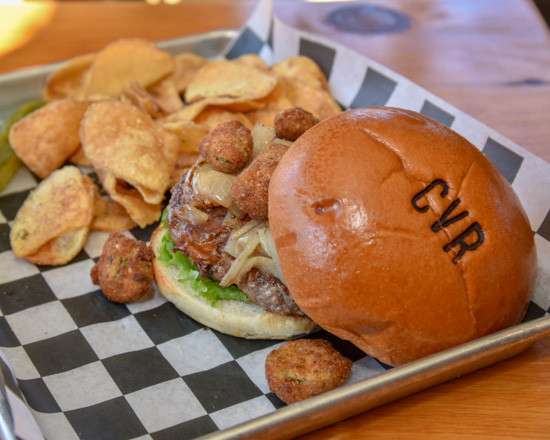 The Country View offers two can't miss opportunities for blue cheese lovers.
The Stuffed Blue Burger is a beef patty stuffed with blue cheese crumbles topped with sautéed onions and fried jalapeños while the Blue Hawk Burger is topped with crispy bacon and crumbled blue cheese.
Get the Real Deal
Americans love burgers for a good reason. They're tasty and satisfying. But if you're going to indulge, skip the fast-food combo meal and instead, opt for a genuine palate-pleaser like one of the top-shelf burgers on the Country View menu.
Burger trivia
Historians believe Mongol horseman ate the first meat patties in the 1200s. The fierce warriors tenderized the raw meat by putting it under their saddles.
The first recipe for Hamburg sausage appeared in 1747 in an English cookbook. It called for combining minced beef with several ingredients including salt, pepper, red wine, and rum, before smoking it in a chimney for a week.
The hamburger sandwich made its debut in 1904 at the St. Louis World's Fair.
Because the term hamburger came from Hamburg, Germany's second largest city, some Americans called them Liberty Sandwiches during World War I.
Adding cheese to burgers became popular in the late 1920s.
The most popular types of cheese? Cheddar, American, Blue, and Swiss.
McDonald's started selling the Big Mac for 49 cents in 1968.
Wendy's "Where's the beef?" commercial first aired in 1984.
Shake Shack debuted in 2004 in New York.
In 2009, PETA offered to pay Hamburg, N.Y., to change its name to Veggieburg. Hamburg declined the offer for $15,000 worth of non-meat patties.
Sources: Timeout.com, National Cheeseburger Day, and Parade.com
Related Articles:
Keep Reading