We Wish You a Merry Christmas
It's been another eventful year for everybody at The Country View Restaurant and during this magical time of the year we have prepared a truly magical atmosphere at our restaurant.
Christmas at The Country View Restaurant
Christmas is an inspiring time that's all about giving and forgiving, reflecting and remembering. We create our own little magic at the restaurant so each visitor will feel the splendor of the winter holidays. As a small entity in a tight-knit community we are focused on making our customers feel at home as evidenced by people talking to each other like old friends who haven't met in a long time and feeling relaxed while getting a break from the stresses of daily life.

There is that small bit of glimmer in the customer's eyes that we see during the holidays. Christmas is about caring for one another and spreading goodwill, said Sandra Makmann, owner of The Country View Restaurant.
Now and then we have a young couple on one side of the restaurant picking up the tab for a veteran and their spouse on the other side of the restaurant. There are many instances of people who will pay for somebody else's meal and wish to remain anonymous. It's their own way of silently being thankful and celebrating the true meaning of Christmas.
Our Decorations
We're big on decorations and celebrating at The Country View. Once you walk through our doors you can sense the extraordinary power of this special holiday. We have amazing and beautiful Christmas decorations, from lights on the mantle above the fireplace to windowsill holiday arrays. We also have a variety of seasonal specials in both beverage and food selections. We even have our own Santa Mailbox for this with special Christmas wishes. The mailbox contains numerous notes and letters from both children and adults.
Our Christmas Specials
As always, The Country View Restaurant puts together heart and soul to craft new dishes for our customers. For this Christmas we have prepared some very special things.
Chrismosa – a themed drink made of fresh pomegranate, cranberries and green grapes with white grape juice and champagne.
Santa's Rushin' – the best eggnog in the whole state mixed with Vodka and Kahlua and topped with nutmeg sprinkle.
Cali's Christmas Bake – a delicious layered egg bake of bread, onion, feta cheese, Parmesan cheese, tomato and baby spinach. All topped with sliced avocado and served with sourdough toast.
Rudolph's Grilled Cheese Bennie – a tasty grilled cheese of sourdough bread and mozzarella cheese, bacon, two poached eggs and creamy hollandaise sauce. Served with home fries or hash browns.
Our Christmas Fundraising
For us, Christmas is about kindness – giving and caring for those in need. As you know, we have always done our best and contributed to many fundraising campaigns.
Doing good, giving back to the community – it's all really valuable. This is our way of spreading the goodwill.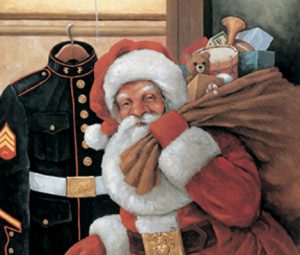 Right now we are part of the nationwide campaign called Marine Corps Toys for Tots. Its mission is to collect new unwrapped toys and distribute them to less fortunate children in the Portsmouth area for Christmas. At our restaurant, in Greenland, you will find a Toys for Tots collection box and we encourage everyone to leave an unwrapped toy. This simple act will bring magic and the joy of Christmas to a child who's longing for the spirit of holidays.
Our Wish
When asked about her Christmas wish, Sandra thoughtfully said:
To continue the path that we are on.
And this says it all. We wish to continue to serve our community. We wish to keep adding to our menu and remain your top choice for breakfast and the place to enjoy your morning. Our wish is for you to have a wonderful time together with us.
From everybody at The Country View Restaurant – We Wish You a Merry Christmas!
PS: Keep in mind that our restaurant will be closed on Christmas Day. We will be open on Christmas Eve between 6:00am and 12:00pm.
Related Articles:
Keep Reading