Our Staff's Favorite Dishes 
The Country View is a top restaurant in the Portsmouth area that has been a community favorite over 30 years. We constantly strive to give back to our closely-knit community here on the New Hampshire seacoast area By maintaining quality food, an excellent reputation and high standards, we have been voted Best Breakfast on the Seacoast many times over the years. We have also been awarded the Certificate of Excellence by TripAdvisor and been part of more than 100 fundraising campaigns. Our talented chefs create flavorful and delicious dishes, producing creative and comforting combinations that keep customers coming back. Yet also they find time to participate in various fundraising competitions such as this one.
As winter is at its peak and we desire to find warmth where we can, we've decided to put the spotlight on our team. We want to tell you more about the people who help make The Country View a top restaurant in the Portsmouth area. We have asked the staff to share their favorite dish and the story behind it.
Colleen, server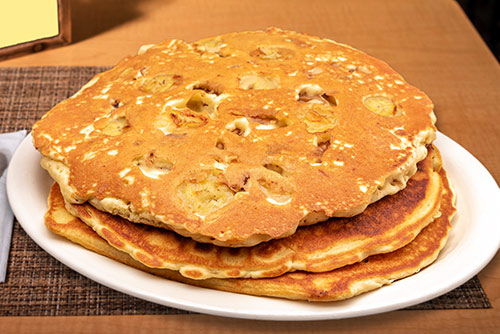 Thinking about my favorite dish on the menu, Blueberry Pancakes, brings back wonderful memories of my childhood. I can vividly remember waking up on Saturday mornings to find my father (who was mainly a cook) making pancakes downstairs for his 5 children.  No alarm clock was needed when the sweet smell would slowly crawl up the stairs and fill my room. My father and the family used to go to the local farmers' market in the Portsmouth area and pick blueberries which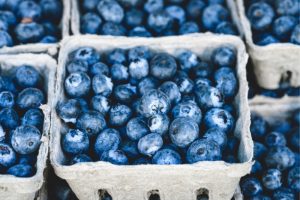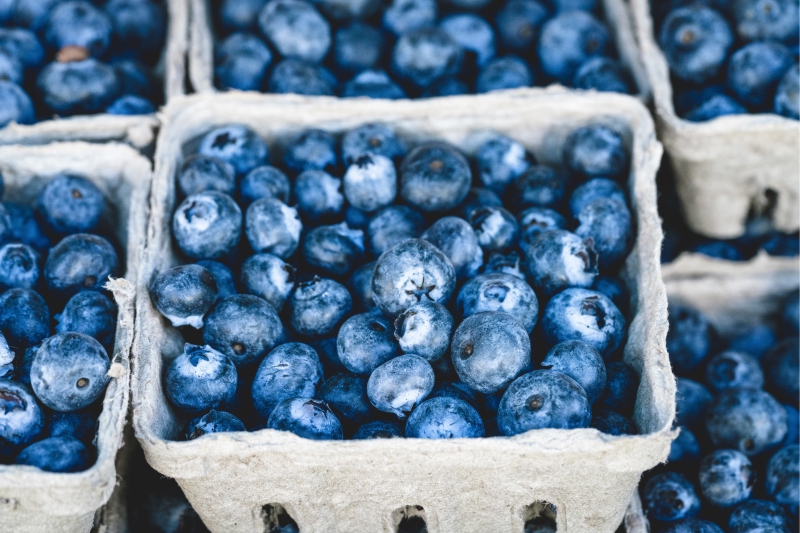 He would use for his signature pancake mix. We used to smother them in butter and syrup. And I always knew that my day, which usually contained raking leaves, going to the beach, or spending time with my family on the seacoast, always started with blueberry pancakes.
Donna, server
I've been working at the Country View Restaurant for thirteen years. And I can say with great certainty that my all-time favorite dish is undoubtedly The Piggy. The first time I tried it I was with my young son, who was around 10 at the time. It reminded us of our trips to the Lake Placid area. During our travels, we dined in a number of different places and discovered our love for sausage gravy. The Lake Placid version doesn't compare to what we serve at the Country View, but eating it makes me nostalgic for years gone by and time with family. The Piggy combines scrambled eggs with hash browns and bacon, smothered with the aforementioned sausage gravy and served on a buttermilk biscuit. In one word it is simply "delicious". And I just love it!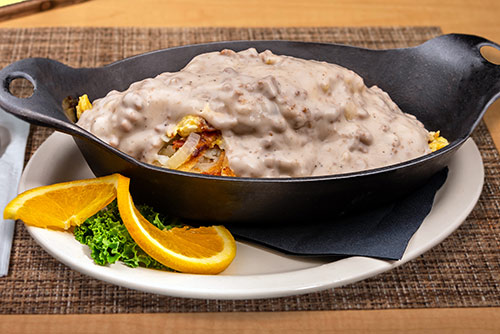 Jeff Smith, General Manager
I'm going to talk about the Egg Baked Casseroles because it's not only a versatile dish, but it reminds me of time spent at my grandmother's house. As a child, my three brothers and I would often visit our grandmother and, as you can imagine, four growing boys ate a lot. My grandmother's cooking creativity led her to add whatever items she had in the fridge, such as bacon, sausage and numerous vegetables to the casserole I always looked forward to eating at her house and enjoying her different flavor combinations.
As a top restaurant, we offer a wide variety of egg bakes, mixtures of crispy bacon, onions, tomatoes, baby spinach, feta cheese and Parmesan cheese are examples of some of the ingredients that comprise these bakes, which are changing quite often. The egg bakes are one of the most popular dishes, bringing customers needed comfort on a cold day.
Stevie, chef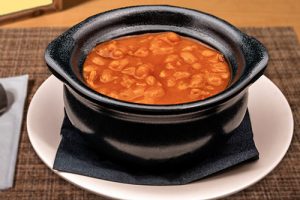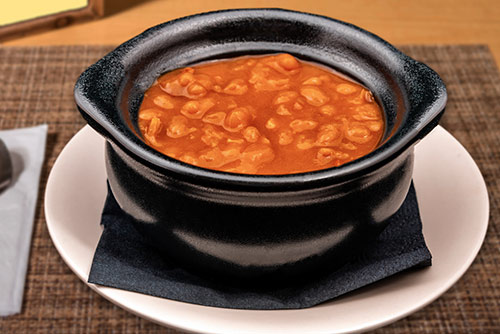 My favorite dish is one that may appear as simplistic, but is made with much love and care; that dish is our Homemade Baked Beans. We make them ourselves and the recipe is probably older than I am. We have our own version of a restaurant Bible, which is kept in the kitchen and filled with old, proven recipes. A lot of our most popular dishes are written in there, baked beans being one of them. We use navy beans, cook them for close to eleven hours and then finish them with molasses, bacon, mustard, onions and our secret ingredient that I definitely can't tell you about as I've been sworn to secrecy. But trust me when I tell you the Baked Beans we serve at The Country View Restaurant are like none other and, hopefully, will become a favorite of all who try them.
Brian, cook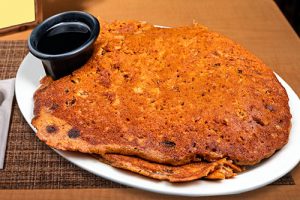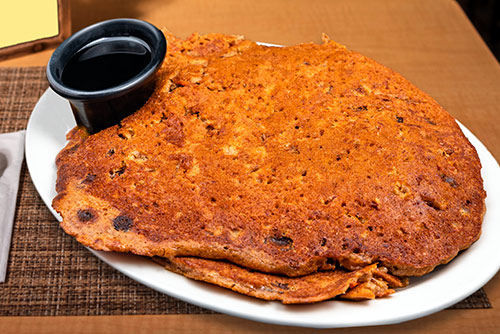 The Golden Harvest Pancakes are the first dish that comes to mind when talking about favorites. They're much different from the pancakes that most places offer and not your typical pancake. They're hearty, as they are made of carrot, nutmeg and pumpkin, filling and very representative of an area that relies heavily on farmland and nature. They often conjure up a customer's thoughts of Autumn in New England lazy and golden. This taste of morning is to be savored and not merely eaten.
Natalie, server
My favorite dish is the Grilled Cheese Benedict, and my reason why it's best is quite simple: it reminds me of my childhood, my favorite sandwich and what has always brought me great comfort. As a kid, I loved anything cheesy, as many kids do, and as an adult I've discovered the adult version of a great cheesy dish. It's as if I'm allowing myself to be a child all over again, while still knowing I'm having an enjoyable, filling breakfast. I've encouraged many customers to revert to their childhood and indulge in the Grilled Cheese Benedict when they visit the Country View and I've yet to hear of anyone being disappointed with it. I love it and I would want others to experience it. It's a great way to start the day!
It's your turn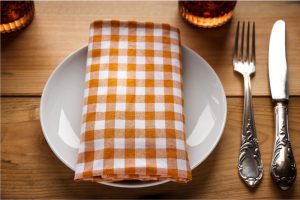 We've told you about a few of our favorite dishes from the menu. Let us know what your favorite dish is and why. We will write a blog post about your choice and feature your favorite dishes in a future post.
Check out our menu here.
Related Articles:
Keep Reading