Snowshoeing in Portsmouth
Winter Adventures: Explore Snowshoeing Trails Near Portsmouth NH
It's all too easy to want to hibernate when the weather turns frosty but you can defeat that impulse, grab your gear and enjoy a winter wonderland when going snowshoeing near Portsmouth NH.
Snowshoeing is an excellent exercise that can burn up to 500 calories per hour, which is almost double the amount you'd use walking and that's why it's essential to make sure you eat a hearty breakfast beforehand at The Country View Restaurant. With so many enticing items on the menu, might we suggest fueling up with one of our favorites, such as the Irish Benedict, Marty Scramble or restaurant namesake the Country View Special. With energy to burn and a once-empty stomach now filled, enjoy exploring snowshoeing trails near Portsmouth.
Gear Up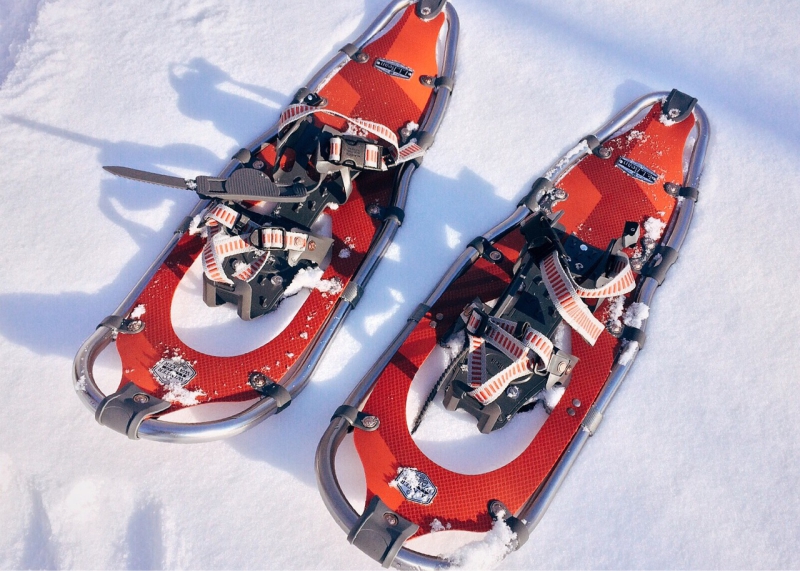 Make sure you're prepared for your adventure with the right equipment and clothing. If you usually walk at a pace of four miles per hour, expect to travel about two miles per hour while snowshoeing. Start with a short distance and work your way up to longer treks.
If it's your first time snowshoeing, be sure to go with at least one other person or a small group. Walk at a comfortable pace and take rest breaks as needed.
The primary gear is snowshoes and trekking poles, which you can rent or buy. Be sure to get adjustable poles so you can set them for the right length, whether you're traveling on a straight stretch or up or down any hills.
Dress in layers to keep yourself toasty warm. Make sure your top layers and boots are waterproof.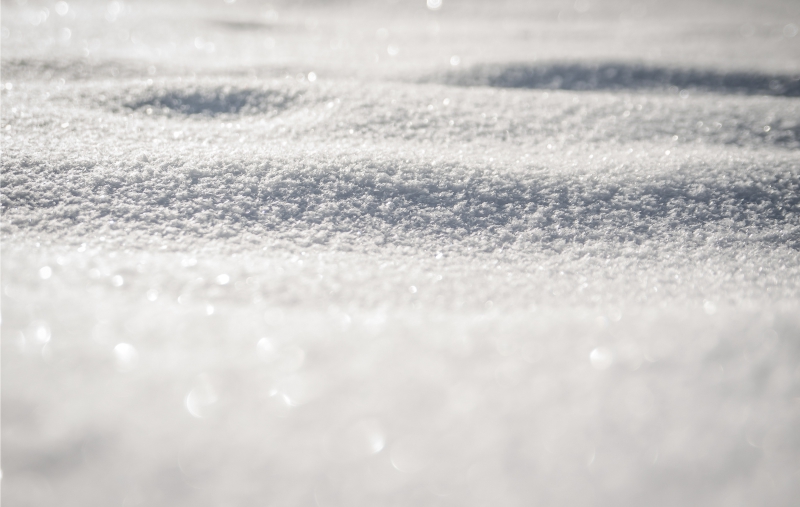 What you need:
Waterproof snow or winter boots
Moisture-wicking long underwear
Snow pants or ski bibs
Gaiters (wear over pants to keep snow out of your boots)
Waterproof, insulated jacket or vest
Ski gloves or mittens
Warm hat that covers ears
Neck gaiter or balaclava to cover your neck and lower face
Ski goggles or sunglasses.
Also, bring along an extra pair of socks, snacks, and water. It's easy to get dehydrated in winter because you tend to drink less water when it's cold, but snowshoeing is good exercise, so expect to work up a sweat.
Snowshoeing Trails near Portsmouth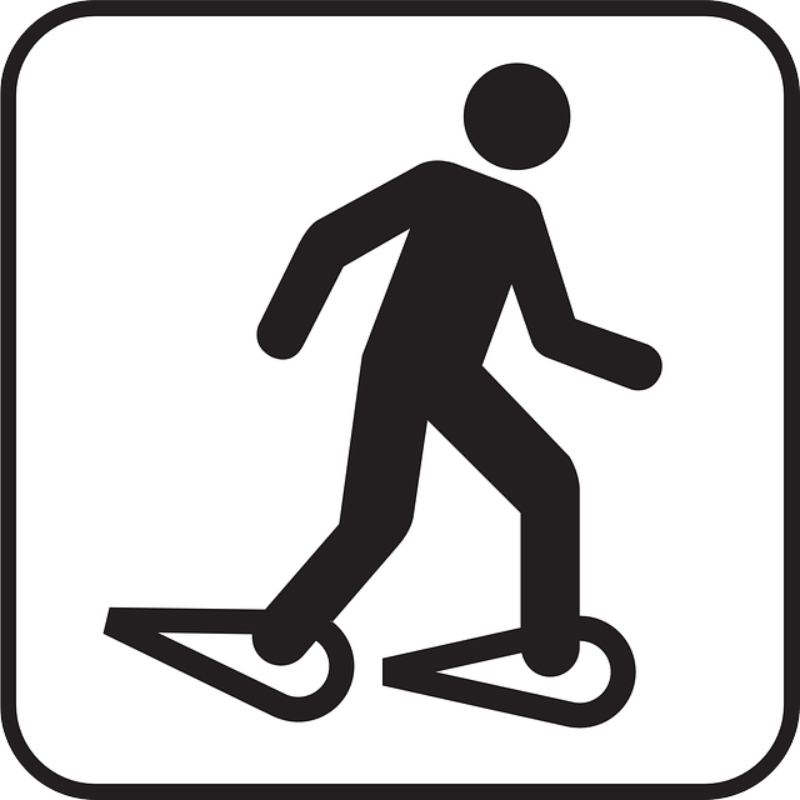 Adams Point Trail
The Adams Point Trail in Durham offers a three-mile loop for snowshoeing. The trail runs along the peninsula jutting into Great Bay and offers excellent scenery and the chance to observe protected wildlife, including 23 endangered animal species.
Bear Brook State Park
With more than 40 miles of trails on 10,000 acres, Bear Brook State Park, located in Allenstown, NH, is one of the state's best options for snowshoeing. There are a variety of trails to meet all skill levels.
Great Bay National Wildlife Refuge
Popular walking trails make great options for snowshoeing at Great Bay National Wildlife Refuge, located in Newington, NH. Parking is available near the trailhead for Peverly Pond Trail. Snowshoers can explore either the William Furber Ferry Way Trail or the Peverly Pond Trail.
The Peverly Pond Trail is a wooded trail about a half-mile long. The two-mile Ferry Way Trail takes snowshoers to Great Bay by way of woods, inter-tidal mudflats, and frozen ponds. The refuge also offers opportunities to spot wintering bald eagles. It's also a winter habitat for black ducks.
Odiorne Point State Park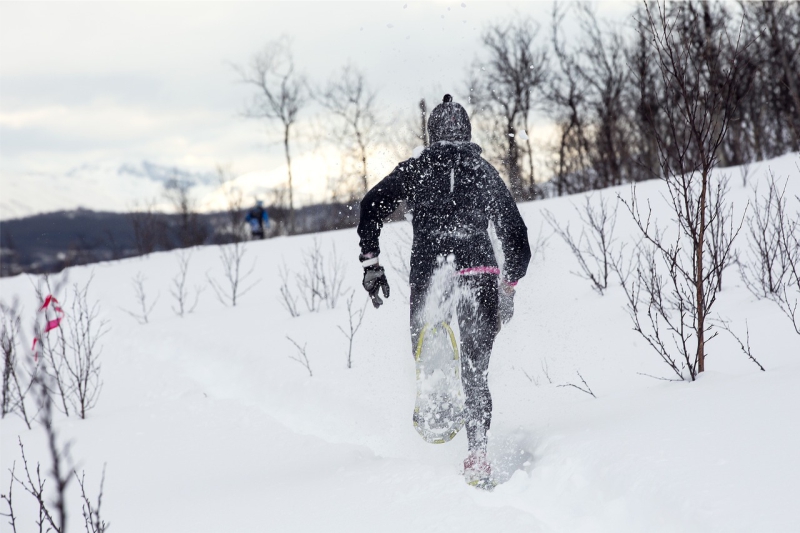 Explore the most extensive stretch of undeveloped New Hampshire coastline on the 3-mile Odiorne Point State Park Trail that runs between Portsmouth and Rye. Or you can check out the 2-mile Battery Seaman Loop, which lets you combine snowshoeing while watching crashing waves.
Sweet Trail
This 4.3-mile scenic trail runs from Durham to Newmarket. Enjoy views of Vols Island and Great Bay as you snowshoe through forest and sea marsh. If you need a break, several granite benches overlook the salt marsh at the mouth of Lubberland Creek.
Snowshoe Equipment Rental
If you want to rent equipment rather than buy, check out Eastern Mountain Sports at 100 Arthur F Brady Drive in Portsmouth NH. The store is open from 9:30 a.m. to 6 p.m. Sundays and from 9:30 a.m. to 9 p.m. Monday through Saturday. Call (603) 334-6141 for more information.
Eat Up
After your snowy adventure, treat your taste buds and your growling stomach to a meal The Country View. The restaurant's known for its award-winning breakfasts and burgers, but it also serves up a wide selection of sandwiches or a bowl and bowls of hearty soup to warm you back up.
No matter what you're craving, The Country View, one of the best American restaurants on the Seacoast, is ready to serve you a variety of breakfast, brunch, or lunch dishes guaranteed to please any palate. Can't wait until you get there? Check out the menu now to plan your next great meal.
Further Reading:
Keep Reading