Get in the Spirit Of Halloween at The Country View Restaurant
Looking to celebrate Halloween in the Portsmouth area? The Country View Restaurant has planned some special dishes, fun activities, and thrilling decorations. Our restaurant is ready to celebrate Halloween… and it will be terrifyingly amazing.
Halloween is a very American cultural staple. There's an underlying meaning to Halloween, but most people view it as a time to dress up, be someone they're not, and have fun. Also it's a great time to spend quality time with family and friends, said Sandra Makmann, owner of The Country View Restaurant. There's no stress that comes with the other holidays, except maybe the stress of choosing a great costume.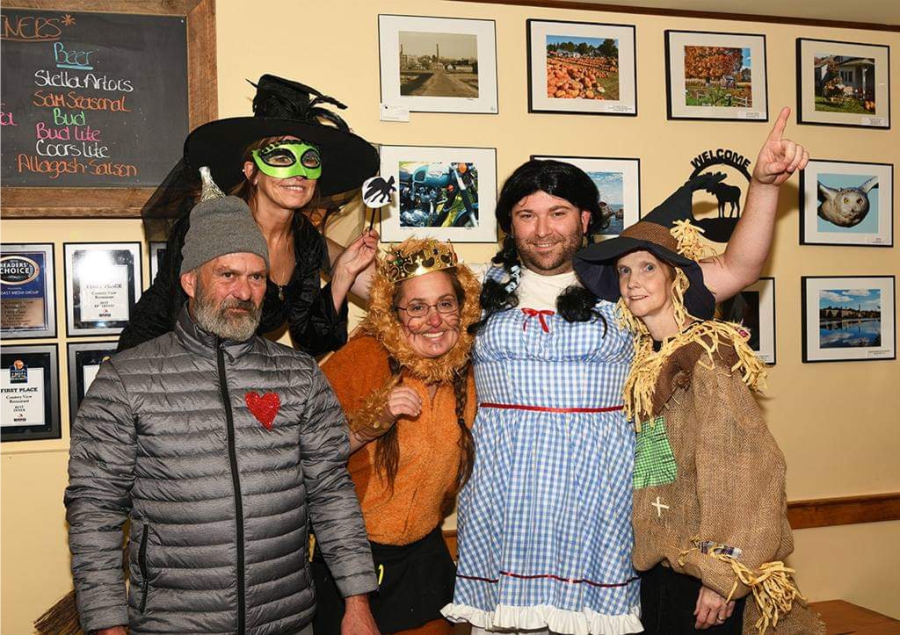 We're here to make sure the stress is well worth it! On Halloween, every customer wearing a costume will get coffee on us. We will also have an ongoing contest for the scariest (coolest) look. At the end of the day, we'll award the winner with a $25 gift card! Dress up, come to our restaurant, take a picture, tag us on Instagram, and enter the contest!
To make it is even more interesting, some of our restaurant staff is also planning on dressing up. Come see for yourself what we have planned!
Halloween Themed Dishes
We've prepared some special halloween-themed dishes that will be served between 10/26 and 10/31. Here's a quick taste of what we're planning for you:
Boo-Berry
A blueberry and bacon short stack of buttermilk pancakes.
Pumpkinhead Pancake
Spookily delicious pancake with pumpkin puree, cinnamon chips and candy corn!
Spirit in the Garden Bennie
Two poached eggs, sauteed mushrooms, baby spinach on a fried green tomato. Topped with hollandaise sauce served with home fries or hash browns.
Goblin Bake
An egg bake of ham, onion and cheddar cheese on buttermilk biscuit topped with country sausage gravy.
Bob the Ghost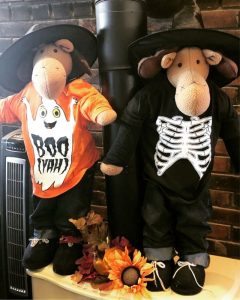 We'd also like to take this opportunity to talk about ghosts. We actually have our own ghost haunting The Country View Restaurant. His name is Bob.
"We've had some strange happenings at our restaurant in the past. If a customer were to come in and reference Bob the Ghost, everybody would know what they're talking about," said Sandra.
Bob likes to lock doors unexpectedly (we once got locked into our own restaurant), to steal food and rummage around in the dining room… especially when there aren't too many people around. He has the habit of scaring our employees when they're alone and is just full of spooky surprises. But don't fret we promise Bob is more friendly than you might expect. Drop in and ask our staff about Bob!
Not Sure Where We Are Located?
Halloween behind the Scenes
There are many Halloween related activities going on around our restaurant, both in Greenland as well as in nearby Portsmouth, NH. We care about our customers having a great time, so we've put together a few recommendations of things to do during Halloween season from all of us at The Country View Restaurant.
1. Visit Haunted Houses
As cliche as it sounds, Halloween is the best day of the year to experience paranormal activity in a Haunted House around the New Hampshire Seacoast. Our region is actually well known for some famous haunted houses. Some excellent examples are Haunted Overload or Spooky World.
2. Attend a Halloween Party
Does spending an evening among monsters and well dressed superstars sound like your thing? The following events might catch your interest: Dr. Gasp & The Eeks or The Strand Ballroom Open Stage. Put on your costume and get rolling!
3. Organize Some Fun Activities for Halloween in Portsmouth
The Not-So-Spooky-Spectacular and The Portsmouth Halloween Parade are a good idea if you are looking for Halloween activities in Portsmouth with your children. The Not-So-Spooky-Spectacular is a children's museum offering a wide range of workshops and games (including a pumpkin scavenger hunt) with lots of prizes. And the Portsmouth Halloween Parade is an annual event during which the streets of the city get marched by hundreds of creatures!
4. Get Lost in A Spooky Corn Maze
Just down the road from The Country View is Scamman Farm, located Stratham. Their Haunted Maze will leave you thrilled, excited and confused all at the same time! Can you solve the Corn Maze? Bring a flashlight and get ready for a scary walk down the 6 acre mazes with 4 different haunted themes. Keep in mind that the Corn Maze runs on specific dates, so it might be a good idea to check their availability.
We look forward to seeing you at our spookytacular restaurant on Halloween this year. Let's get the party started!
Trick or Treat
Related Articles:
Keep Reading